Art Exhibit Show Archive
October 2007
Ana Lorena Sanchez Castillo
October 10th - November 5th
Reception:October 12th
Each individual is a creation of nature, and a creation of nature blooms within each of us.
Ana Lorena is an artist that uses all branches of art to express the needs of her community. Her concept is The Art of the Secret Paradise allows the individual and the community to develop together in a balanced way. To this effect, in 1998, she founded the Compagnie Lavabo de l'Art (Wash Bowl Art Company) in Zurich, Switzerland which incorporated professional and amateur artists and performed regularly in various indoor and outdoor settings.
Ana Lorena has over 30 years of modern and theater dance experience as an actress, dancer, dance professor and choreographer. Her career began in her native Costa Rica and has led her through Central and South America, onto Western Europe and now to the United States. Her many artistic talents include writing, visual arts and doll-making. She has also written numerous short stories for adults and for children.
In 1993, she founded Costa Rica's National Association of Dancers. As a student, she was president of the university's Dance Department and her leadership brought on many improvements for her fellow students.
She is a strong believer in the creative power within that enriches a community.
Ana Lorena Sanchez Castillo
September 2007
A-TEAM
September 10th - October 9th
Reception:September 10th
August 2007
New Jersey Graf: A glimpse into urban art in New Jersey
Opening Reception ,Black book Session and JerseyGraf.com launch party
Reception: Saturday,August 11th, 6pm-10pm
August 10th - September 7th
July 2007
"Thisabled" an art show commemorating the Americans with Disabilities Act of 1990, which was passed in July.
Opening to feature poetry reading, music by people with disabilities.
Curated by Javier Robles
Sponsored by
Thisabled.com
July 10th-August 7th
Reception:July 13th
June 2007
Maddtronix
June 8th - July 9th
Reception:June 8th
MAY 2007
CALL FOR ARTISTS
We are looking for "Jazz Art" for an art show at Café Ole that is running in conjunction with a Trenton2Nite "Women In Jazz Festival," produced by the Trenton Downtown Association and held on Friday, May 11. The art show will be from May 11-June 4. The reception will be May 11th during the "Women In Jazz Festival."
Jazz Art
May 11th - June 4th
Reception: May 11th
Setup is May 9th and/ or 10th between 6pm and 8pm
Pickup is Saturday, June 2nd 8am-2pm
If you are interested, please contact the curator of the show, Leon Rainbow
http://www.LeonRainbow.com
http://www.myspace.com/leonrainbow
leon@leonrainbow.com
609-635-1411
Café Ole has year around art shows.
The "Women In Jazz Festival," Friday, May 11 has 4 venues, 6 bands and over 20 women jazz musicians. Venues with music include Trenton Marriott, Maxine's 2, Gallery 125 and Café Ole.
Kim Aubry
Events Manager
Trenton Downtown Association
APRIL 2007
Will Condry Jr.
April 13th - May 7th
Reception:April 13th
MARCH 2007
Not Booked Yet
March 9th - April 9th
Reception:March 9th
FEBRUARY 2007
Eric Kennedy
Deadsquid.net
February 9th - March 5th
Reception:February 9th
JANUARY 2007
Julian Kearnes
January 12th - February 5th
Reception:January 12th
DECEMBER 2006
Cafe Ole Annual Holiday Show
Curated By Leon Rainbow
Open for submission. 2 pieces at time per artist. Cash and Carry. Group Show marked for sale. Something for every Art Lover on your list. For more information contact
leon
NOVEMBER 2006
MADELIENE CELESTE LUMEN
Madeliene is a mixed media artist, she developed a unique medium of expression using papers and other materials with acrylic paint to form representational arts mainly interpreting her love for nature as her artworks range from landscapes, gardens, cityscape to seascapes.
www.madieceleste.com
OCTOBER 2006
Leon Rainbow
presents
"Off the Wall"
"Off the Wall" is a retrospective of graffiti, canvases, and prints over the past year. The exhibit will challenge the viewer to truely study graffiti art and it's many applications as it relates to our society.
What is graffiti? What is art?
Reception
Friday , October 13th
5pm-9pm
Artist talk at Trenton Artist Salon
Saturday, October 14th
at 10:30am
October 13th - November 5th, 2006
Cafe Ole
126 S.Warren St.
Trenton, NJ
08618
609-396-CAFE
http://www.LeonRainbow.com
AUGUST SEPTEMBER 2006
"INTO DARKNESS"
Selected paintings by Neo-Pop artist Karey Maurice Counts
Location:Café Ole 126 Warren Street Trenton N.J PH #609-396-2233
Date/Time: August 11th thru September 2nd
Admission:Free to the public
Contact: info@redballoonstudio.com or phone 609-356-4459
Please join us for the reception of one of Trenton's most famous painters as he celebrates this landmark summer event. There will be a closing reception & birthday celebration for the artist on Friday September 1st at Café Ole from 6 – 8 pm light refreshments will be served along with other goodies.
About the artist:Karey Maurice studied painting at Mercer County Community College,Nj, under Mel Leipzig and in the streets and galleries of New York City during the "Eighties Art Boom.There he associated with such hip-hop,grafitti,and neo-Pop luminaries as Fab Five Freddie,Jean Michhel Basquiat,and Keith Haring who influenced and encouraged his art.
JULY 2006
Coming Soon
JUNE 2006
Frank X. Moya
MAY 2006
Gary Saretzky
Blues Photography
Statement
I've been a blues fan since the 1960s in high school, when I listened mostly to jazz, blues, and classical music. My first blues records were acoustic sides by Josh White, Lightnin' Hopkins, and Sonny Terry & Brownie McGhee. Then in about 1964, I saw the Paul Butterfield Blues Band on the game show, "To Tell the Truth." After the host said, "Will the real Paul Butterfield please stand up?," the curtain opened and Paul joined the band for "Born in Chicago." I've been a fan of electrified blues ever since. In 1991, one Saturday night, I was turning the dial on the radio and came across Johnny Meister's Blues Show on WXPN, the University of Pennsylvania station. Johnny regularly makes announcements about local events and I started going to concerts hosted by the Philadelphia Blues Machine. At one of them, I met a member of the Bucks County Blues Society, which sponsors blues events every Thursday night in Levittown, PA, and started going there regularly (see their web site), as well as to other venues. Gradually, I started photographing the musicians, mostly while they were playing.
In my blues musician photographs, I try to show how much emotional intensity these musicians bring to their work. As compared to musicians in most other genres, blues musicians are more likely to express their feelings in their facial expressions and body language. Along with the music, their emotionality helps create a psychic bond with the audience. This is one reason why there is such a significant difference between live performances of the blues and hearing it on recordings.
Unlike concerts in theaters, at blues clubs and festivals there are rarely any restrictions on photographing the musicians, but, especially when using flash, I try not to take so many that I distract either the audience or the performers. I make prints and give them to the musicians the next time I see them, or send them via E-mail. Some have used them on their own web sites.
In 2004-2005, I began exhibiting this series in a group exhibition, "The Blues Show," held at Ellarslie, the City Museum of Trenton. In 2005, I had a one man show of the blues photographs at the Pingry School in Martinsville, NJ, along with a CD of each artist. The intent of these exhibits and my web site Saretzky Online (saretzky.com) is to help promote interest in the musicians, each of whom is an outstanding artist. Some of these musicians play only regionally; others tour internationally. Few make much money at their profession. I've been to see some of them who have international reputations when the audience totalled a couple of dozen or less, although about a hundred people is more often the case. During breaks and after the show, most of them are glad to chat with audience members. This is a very different scene from the "arena rock" experience; it is much more personal. I hope you will consider going to hear these musicians live and buying a CD from them directly. See you there!
Biographical Summary
Gary Saretzky began a serious involvement with photography in 1972, when he started studying photography at Mercer County Community College (MCCC) with William Barksdale. From 1977 to 2005, he taught photography and the history of photography at MCCC and has had numerous exhibits of his work. He is profiled in the Macmillan Encyclopedia of Photographic Artists and Innovators, Who's Who in American Art, and Who's Who in America. Saretzky is employed as Archivist of Monmouth County and as Coordinator, Internship Programs, Rutgers University History Department.
APRIL 2006
MADDTRONIX
MARCH 2006
JOS-L
is available for both freelance, part time, and full time work. 12 years experience in painting and illustration. Has done freelance work for magazines, clothing, music, art events, murals, flyers. Has displayed and sold work at galleries, bars, restaurants, shows, and festivals in both New York City and New Jersey including the following: Ward-Nasse Gallery, SOHO, New York City 2003/2004-------The Artists' Gallery, Chelsea, New York City(Group Show)- 2002/2003-------Anatomy Bar, LES, New York City(Solo Show)-2004/2005-------Streets 2k5 Art Show-New Brunswick, NJ-2005-------National Arts Program-Union County, New Jersey 2003/2004(Honorable Mention)-------Bar 169, New York City-2003. Member of Albus Cavus art collective in New Brunswick, NJ and Ward-Nasse Gallery in SOHO, New York City. Please do not hesitate to contact JOS-L for any work or if you are interested in purchasing his work via e- mail at joslart@yahoo.com. Please click on the Photobucket link below for more samples. Artist Statement: Born and raised in Queens NYC, recently moved to New Jersey. Growing up in NYC, I was exposed to galleries, museums and city life from a young age. I attended art classes at Fashion Institute of Technology and Queens College in NY to build a foundation which I then combined with what I already taught myself to create my own unique style. I enjoy experimenting with different styles, never just settling on one in particular. Influences come from graffiti, street, experimental,surreal, fantasy, pop, and abstract arts, everyday people on the street, moods, facial expressions, and also anything else that inspires me to draw and paint. I am glad my art can connect with someone in any way, whether it be spiritual, emotional, mental, or with humor. Our daily lives are ever-changing second by second and I try to capture the different moods,emotions, and spiritual beliefs we have from moment to moment.
JOS-L
FEBUARY 2006
Matt Bergheiser
"Cities"
Matt Bergheiser photographs classic architecture and urban life in his travels through Paris, Barcelona, Rome, Venice, Florence, and his hometowns of New York and Philadelphia. He pays particular attention to the juxtaposition of antiquity and modernity in these wonderful, world-class cities. Matt has served as the Executive Director of the Trenton Downtown Association (TDA) since 2002. With programs fueled by the arts and culture, TDA works to create a vibrant, competitive downtown. In the past three years, TDA has opened Gallery 125, one of the region's most progressive art galleries; developed Studios@219, an enclave of creative studio space in the heart of downtown; launched Patriots' Week, Trenton's signature heritage tourism festival; grown Trenton2Nite to a dynamic monthly celebration of art and jazz; and catalyzed the creation of high-end, destination retail on South Warren Street. Matt lives with his wife Jennifer and his Nikon D70 in Wynnewood, PA.
JANUARY 2006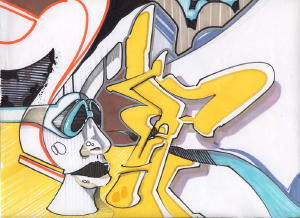 "... A thousand words"
A collection of works on paper by Pose 2.
January 7th 2006 - February 7th 2006
Special Reception
Saturday, January 7th 2006
6pm-10pm
Cafe Ole
126 South Warren Street
Trenton, NJ

Pose 2 is a legendary graffiti artist the likes of which this area has not seen in a long time. On January 7th, he will be bringing a bit of Philly to Trenton. Not to mention some great art. This is a "Not 2 Be Missed" event. Pose has put together entertainment for the event featuring spoken word, music, and other elements of hip-hop.
www.pose2.com
www.cafeolecoffee.com
609.396.2233
609.635.1411

www.leonrainbow.com